---
Steve "Rosebud" Riley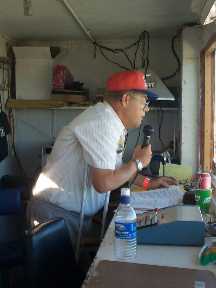 Jim Shiels wrote and delivered a moving eulogy of Steve Rosebud Riley last Saturday, 8/4/01 at 99. The entire text is below. Below, cars lined up for a Tribute Lap
as well as all the track officials and family,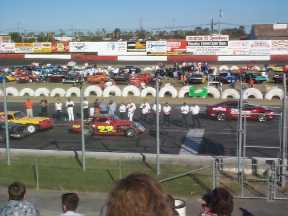 as his stepson Darrin Halterman #22

led the victory lap.
Here's Jim's eulogy:

To the race fans, drivers, and crews here tonight, I have sad news to report. To those who haven't heard, Racing has lost yet another of it's own, Last Monday, Steve "Rosebud" Riley lost his race with cancer and passed away at the age of 51. Steve was the husband of our #122 Grand Am driver Sharon Riley and the stepfather of Darrin Halterman, our #22 Grand Am Driver, and his wife Jennifer Halterman from the Pure Stock Division.
Steve competed at both Stockton and Delta Speedways in a career that spanned 30 years and included Mini Stock, Hobby Stock, Charger, GAM, and Late Model competition.
One of my best memories of Steve is a photo of a car he drove with two pigs painted on the hood. The pigs were doing what pigs do and the caption said" Making Bacon". It was the typical thing Steve did...to put a smile on your face.
When he reaches that "other" race track, he wil proudly present his resume showing 18 heat wins, 9 dash wins, 8 semi wins, and 122 total top finishes. I don't doubt for a minute that he will be ushered to the driver's area to prepare for that days feature event.
Steve never won the lotterey, and built most of his cars himself. He was what we called a "budget racer".
But he was one that was able to run with the big dogs at each event.
He didn't make a fortune in racing, but his friendship was worth millions. Rest easy old friend you will live forever in our memories.
---