July 08, 2006
BAY CITIES RACING ASSOCIATION MIDGET DIVISION

MIDGETS RALLY FOR FINAL TIME AT STORIED STOCKTON SPEEDWAY SATURDAY
Floyd Busby (925) 825-1043 - buzco@buzco.com

When the checkered flag falls at the conclusion of the 30-lap midget main event this Saturday night at the Stockton "99" Speedway, the end of a long history of open wheel racing will be finalized. This is the final season for the track and the final race for the midgets.
When Ed Normi won the inaugural Bay Cities Racing Association midget main event at the Stockton "99" Speedway on May 12 of 1948 he could have hardly imagined the long and storied history of the quarter-mile paved oval that will end with this Saturday nights race, 58-years later.
Over the years BCRA has sanctioned 71 races on the high-banked oval with such competitors as Indy driver Chuck Stevenson, Fred Friday and the famed Freddie Agabashian winning in the inaugural season. Among the top competitors from the past have
been Bill Vukovich and Johnny Boyd.
This Saturday night the top cars and drivers of the Bay Cities Racing Association and the United States Auto Club will co-sanction the final round of racing at the Stockton oval.
Leading the way is hometown veteran John Sarale, the 2005 BCRA champion, in the Sarale Farms Chevy powered Beast.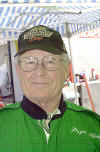 BCRA's "Elder Statesman" 71-year-old Floyd Alvis of San Carlos, a seven-time champion, will be in sharp contrast to new rookie Justin Grant of Ione, an emancipated 15-year-old with years of outlaw kart racing experience. Alvis drives his Champion Automotive VanDyne powered Stealth while Grant is learning the power and handling of an Esslinger powered Beast.
Current BCRA point leader Travis Berryhill will pilot his "Spirit of American Canyon" Stealth/Fontana, sponsored by his home town.
Among the other BCRA entries will be Scott Pierovich of Alamo, Shannon McQueen of Bakersfield, Dan Gundo of San Jose and competition surfer Garratt Boyden of Santa Cruz.
Among the entries representing USAC will be current point leader Jerome Rodela of El Monte, Tyler Brown of Norco and Chase Barber of Morgan Hill.
The midgets will compete in time trials, heat races and the main event.
The midgets will be joined in the full program by the USAC/CASA sprint cars, Western Late Model 50, American Limited Stock Cars and Pro-4 Trucks.
The grandstands open at 3 p.m. with qualifying set for 3:30 and racing at 6:10. Adult admission is $30, seniors $25, juniors 13-17 $15, kids 6-12 $5 and five and under are free. A family pack consisting of two adults and up to four kids 12 and under is $69.99. Visa and MasterCard is welcome.

#####
PHOTOS: 1: Floyd Alvis / 2: John Sarale
All products mentioned are registered trademarks or trademarks of their respective companies.

Any and All COPYRIGHT MATERIAL APPEARING ON THIS SITE COMPLIES WITH FAIR OR ACCEPTABLE USE PRINCIPLES ESTABLISHED IN U.S. AND INTERNATIONAL COPYRIGHT LAW FOR THE PURPOSES OF REVIEW, STUDY, CRITICISM, OR NEWS REPORTING.