STOCKTON 99 SPEEDWAY

Powerslides Were The Theme Of The Day As 99 Drift Hit The Asphalt
For Their First Official Competition At Stockton 99 Speedway
<![if !vml]>
<![endif]>
The race day started quite early and with great anticipation of what was to follow. A great Car Show and the first ever 99 Drift Competition was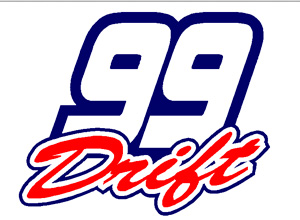 about to get under way. It would be a day of fantastic possibilities, and, of course, a few disappointments. But, if you were among the fans in the stands, there would be no disappointments in store for you on this beautiful summer morning. Never before had such a competition been held on the high banks of Stockton 99 Speedway. And for the majority in attendance the question was, "Why Not?"
Round number one got underway with one of the favorites in the competition today, Johnathan Corvinus (69) of Tracy, first in line. He did a great job hitting the marks on the course and set the bar quite high for the rest of the field. In the end, Corvinus wouldn't have high score for round one, but it would be enough to move him on to the next round. Instead, Andy Gillespi (66) of Sonoma would post high score to lead the field into the second round.
Round two would be where the competition intensified as the tandem portion of the drifting began. You could feel the excitement in the air as two cars lined up nose to tail with the trailing car trying to mimic the leading car's drift. Mike Spring (8) of Tracy faced-off against Gillespi (66) in the first head to head match-up with Gillespi coming out on top in this one, advancing him to the semi-finals. In the second duel Rich Gilligan (430) of Modesto met George Lazar (28) of Modesto for their city's bragging rights. Gilligan would gain those rights in a very closely judged match. The third and final duet would put Corvinus (69) up against a strong charge from Josh McGuire (63) of Chico in which Corvinus was the eventual winner and would seal his spot in the Finals. Late-comer Chris Harris (72) of Sacramento suffered technical difficulties early-on which forced him into a wild-card showdown with McGuire (63) which ended a rather bad day for Harris.
With a single car, the #69 of Corvinus, awaiting a challenger for the finals, Gilligan (430) squared-off with Gillespi (66) for their semi-final bout in which Gilligan would make quick work of the #66 launching his #430 Nissan 240 LSX into the final round. Meanwhile, Gillespi would go toe to toe with McGuire in the Consolation Round with the #63 Nissan 240 SX finishing in the third spot on the podium. "I'm very stoked and I'm very fortunate to come to a place like this and step my skills up like this against the best," said an elated McGuire, "It makes me push harder and I just want to come back and do better next time." Gillespi would have to settle on a fourth place finish in what many considered a very impressive day for the #66 Mazda Miata. "I was excited, glad nothing blew up or broke. I go through rear-ends about every thirty days," said Gillespi, "We just struggled with tire compounds today. I probably changed more tires than I went on track. It was just a big hustle to get things done."
The Championship Round was set and ready. These cars had been on the track most of the day and many were suffering from overheating. But, that certainly did not stop the final round from being all it was hyped up to be. Corvinus versus Gilligan would prove to be the most exciting, hard-fought battle of the afternoon. This one was so close it was a hard one to judge, but in the end it would be Gilligan standing atop the podium in that coveted Championship spot. "I feel good. I never thought this would happen. There was a possibility I wouldn't even be out here today if it wasn't for a couple of my friends," said a very happy Gilligan, "They helped me change the motor last night and we worked till four in the morning. I woke up at eight, got my tires and came in and it was successful." Corvinus gave it everything he had, but after all was said and done, Gilligan's Nissan was just too much to deal with on the day. "Yeah, I wish I didn't initiate so hard, I initiated with too much angle," Corvinus said with a smile, then added, "If I had it to do again I would have probably done the same thing. Oh well, you know, that's racing." Sometimes the best car does win.
Stepping out of my reporter's dress for a moment and into something a little less conspicuous like a spectator's point of view, I have to say I was quite impressed with the mad-skills these drivers possess. I showed up with an open mind and I am truly happy I did not miss this competition. It was most definitely one of my better days at the track, without question. This was one of the finest, most respectful groups of young people I have ever encountered both on the track and in the stands. I came away thinking maybe our future is in pretty good hands after all. So I say next time 99 Drift is in town, leave your misconceptions about drifting at home and come out to offer your support to this hard-working series. I promise you this, you will not be sorry you did. I know these young folks moved me to become a fan today.
Next Saturday, June 27th the NASCAR Whelen All-American Racing Series is back in action with the Western Late Models, Grand American Modifieds, ALSC/Street Stocks and the Bombers on Alpine Meats Night at the races.
The New Stockton 99 Speedway is located at 4105 N. Wilson Way, ¼-mile west of Highway 99. For more information on tickets and times, please contact the Speedway Office at (209)466-9999. And remember, The New Stockton 99 Speedway is always Family Friendly.
The New Stockton 99 Speedway is sponsored by Jackson Rancheria Casino Hotel, California Welding Supply, Budweiser, and Alamo Alarm.