STOCKTON 99 SPEEDWAY

Patience pays off in first win
Santa Barbara driver claims Don Conti 99
Record Staff Writer
August 09, 2009 12:01 AM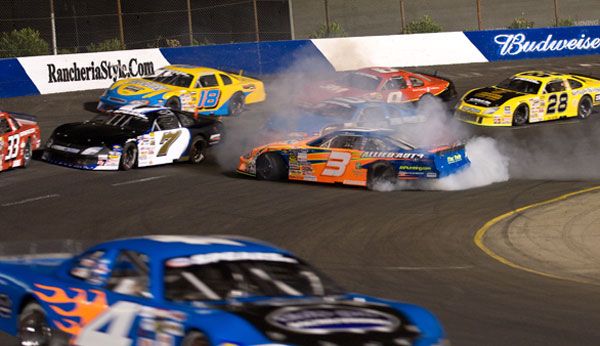 Troy Ermish of Fremont and the #3 car get spun around on the opening lap of the Don Conti Memorial 99 on Saturday night at Stockton 99 Speedway. (Craig Saunders, The Record)
STOCKTON - Greg Voigt had been waiting three years to win his first Southwest Tour race, and he had to be patient again on Saturday.
But with 28 laps left in the race, his opportunity came and he was ready.
Race leader Craig Raudman was delayed by lapped traffic and Voigt took the lead on his way to winning the Supermodified Racing League Southwest Tour's Don Conti Memorial 99 on Saturday at Stockton 99 Speedway.
The race was dedicated to Stockton racing sponsor Don Conti, who died in a car accident on July 18. His wife, Mariann Conti, waved the green flag for the main event.
Voigt, a 40-year-old driver from Santa Barbara, had been competing on the tour for three years, but did not win before coming to Stockton.
"We won trophy dashes and other things, but we had not been able to win the race," Voigt said. "This feels good."
He got his chance after a dominating run by Raudman, who took the lead on the first lap and at times had a sizable lead. Raudman and Voigt were going through a group of cars on lap 72 when Voigt was able to drive past him low on the track coming out of the fourth and final turn.
"I saw my chance, and went low. I wasn't sure it would work, but I was going to try."
Raudman called the result "disappointing."
"I got bottled up and that was it. He got by me," said Raudman, a Cottonwood resident.
M.K. Kanke of Frazier Park was third and set the new Southwest Tour qualifying record at Stockton 99 with a lap of 13.086 seconds. Greg Potts of Stockton struggled after his car suffered a broken sway bar in the front end early in the race, but he was able to finish 10th after starting 17th.
"It happened right away, but I wanted to stay out there and work with it," Potts said. "All things considered, taking a top 10 is OK."
The Southwest Tour returns to Stockton 99 on Oct. 3.
Jeremy Wood of Tracy has been racing in Stockton since he was 16, and returned on Saturday to win the Legends of the Pacific main event despite dealing with a case of the flu.
"I almost didn't come because I didn't feel very good," Wood said. "I feel better now."
Wood, 22, beat a 22-car field to pick up the victory in his home county.
David Goodwill won the Northern California Modified Association's Sprint race, and Brian Hitchcock won the Mini Stock feature. Ryan Strmiska of Stockton won the Enduro race.
Contact reporter Scott Linesburgh at (209) 546-8281 or slinesburgh@recordnet.com.