<![if !vml]>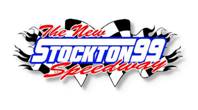 <![endif]>2010 Local Tracks

STOCKTON 99 SPEEDWAY
2010 Schedule Last race:
Zane Lovelace Jr. Stole The Show
Whelen Night At The Races Produces A First-Ever WLM Victory For Seventeen Year Old Michael Sandoval
(May is Jackson Rancheria Casino & Hotel Month at the Speedway)
When viewed through endless summer fields, the Speedway's unobtrusive face: a jewel across the seamless grass, so satisfying. And, if you like satisfaction you were definitely filled to the brim on Saturday, May 22nd, as Stockton 99 Speedway Presented Whelen Night at the Races with the NASCAR Whelen All American Racing Series Western Late Models, Grand American Modifieds, Street Stocks, Bombers, Basically-4-Cylinders and Mini Trucks/Mini Stocks. Double Track Points were up for grabs in all Divisions.
After a week of some controversy and some penalties being levied, the Western Late Models rolled back into action in what might be construed as more cautious beginnings. And alas, as the green flag flew, these boys were whistling through the wind. Rookie Michael Sandoval (17) of Ripon started on point with track newcomer, Jeff Streeter (88) of Chowchilla flanking him to the right. As the green flag fell, Sandoval jumped quickly to the lead with WLM Points Leader and Rookie Chad Holman (9) of Manteca in hot pursuit. On this night, Holman would shadow Sandoval's every move until the final laps when a couple of slower cars came into play which allowed Holman to get to Sandoval's bumper, but to no avail. Sandoval held on like a seasoned veteran as he crossed beneath the checkers for his well-earned, first-ever Late Model win, going wire to wire. "This is what we were hoping for: to get out front with no yellows," said the very well-mannered Sandoval, "I can't believe we won, it's like it isn't even real." Holman was denied another win and had to settle for second, but said, "I could have bumped him out of the way for the win, but that's not how I drive. My hat is off to the kid (Sandoval), he stayed cool under pressure and he earned the win." Modesto's Mike Beeler came through the field to finish on the podium in third while fast-timer Tim Spurgeon (86) of Danville brought her home a close fourth. Newcomer, Streeter, rounded out the top five.
The Grand American Modifieds returned to the Speedway after enjoying a week off. Unfortunately for the Division, the car-count continued to hover around two. Of course, the steadfast Points Leader AJ Ryder (62) of Stockton was ever-present and started on pole with Tyler Wentworth (17) of Rocklin at his side. When the green flag dropped it was as though Wentworth had been shot out of a canon as he grabbed the lead and never looked back, despite the fact Ryder hugged his back bumper throughout the ten lap duel. At the checkers it would be Tyler by half a car-length over Ryder. Some might think to the contrary, but this was actually a good race between two equal cars. And these guys put on a great show.
Last week, Points Leader Sammy Solari suffered a rare evening of bad luck. This week, he was back in force with the hopes the Racing Gods would be smiling on him. Dennis Saunders (91) of Modesto and Robert Daniel(s) (17) of Lodi paced the field to green to get this one up to speed. Saunders showed impressive strength early as he ran out front for the first eight circuits, but on lap 9, Stockton's own Ben Lewis II (22) blew by to lay claim to that much sought-after real estate up front where he looked as though he could smell victory as he pulled away from the pack in a dominate manner. But, to absolutely no one's surprise, Solari was behind Lewis eating up the racing surface as he gained huge hunks of asphalt lap after lap until finally, on lap 36, after a stern nudge to the back bumper of Lewis, Solari dove low coming out of four to capture the lead on his way to his fifth victory in six starts this year. "I usually run better when it's hot," the confident Solari said, "This car is running so good, I don't think the temperature outside affects it that much." Lewis held on to finish second with Saunders on the podium in third. Daniel(s) fell off a bit, but still managed a fourth while Atwater's Jason Aquirre (45), a driver very impressive so far this year, making up the top five.
The Bombers hit the speedy asphalt surface with vigor and resolve. So much so, their emotions couldn't help but to ignite the fans in the stands. At the outset, a coin was flipped to decide the direction things would go, and tonight, these drivers would be turning right. Due to the eight-car invert, Stockton's Jeremy Tucker (051) would inherit the top spot in this one with Kevin Terpstra (111) of Modesto alongside. The race would go to green with Tucker jumping out early only to be slowed on the first lap when Peggy Sue Jared (313) of Lodi stalled out on the back-stretch and came to rest on the grass which the eye of the flagman who promptly brought out the yellow flag. On the restart, J. Tucker assumed his position, but was just as quickly unseated on lap 3 when Terpstra went low for the lead where he would stay until lap 6 when Stockton's Tom Dahl (004) tagged the #007 of Mike Masone spinning him backwards down the front-stretch which eventually came back around to collect Dahl and bringing with it the second yellow of the race. When the race went back to green, J. Tucker once again claimed the number one slot but would surrender the lead on lap 9 to Stockton's Freddy Rathjen Jr. (290) until lap 13 when Masone did a solo spin down the front-stretch bringing out the third and final caution on the night. On the restart, Rathjen would hold point until lap 20 when last week's Main Event Winner, Robbie Knittel (3) of Lodi, after working his way up from P8 on the starting grid, decided it might be time for a repeat as he dove low for the lead. However, on lap 29, Brandon Jones (33) of Lodi, who had a win taken away earlier this year, appeared as out of nowhere and coming around to the checkers, slipped by Knittel for the win in what was one of the best races of the night. "I was pretty sure I could pass him (Knittel), but it got hectic there coming off the last turn," said the young, soft-spoken Jones," It was fun and it feels great to get a win I get to keep." Knittel would have to settle on what was most likely a disappointing second place finish with Rathjen slipping back to third. Points Leader Travis Tucker (350) of Stockton hung in there to bring her home fourth while J. Tucker rounded out the top five.
Although the Basically-4-Cylindar's are a little smaller and equipped with a little less power, that certainly doesn't deter the drivers from running all out, and it certainly doesn't take away from the excitement they produce. Two Modesto drivers, Tommy Wood (28) and Daniel Durbin (13) got this twenty-five lapper underway from the front row with Durbin jumping out to grab the early lead which was extremely short-lived when, on lap 2, Modesto's Larry Toon (88) decided it was time to go. And go he did as he managed to put a full straightaway between himself and his nearest competitor as he crossed the stripe in what was a lopsided victory over the rest of the field. The #22 of Jake Morgenstern, starting deep in the field, made a hard-charge through the pack to finish a very impressive second. Defending Division Champion Richard Hull (23) of Modesto managed a podium finish in third with JD Silva (56), also of Modesto, crossing the finish line in fourth. Points Leader Kelle Bobbitt (61), from parts unknown, came home with a top five.
The Mini Stocks/Mini Trucks roared back into action for the first time in several weeks. And it was obvious, they were ready to go. Chris Parker (21) of Manteca sat on pole with Modesto's Jim Morgan outside front row. However, by the time they came back around to greet lap 1, Ron Robeck (3) of Milpitas had already shown his hand as he sped beneath the flag-stand with the lead which he would carry through, virtually untouchable, to the checkers and the victory. Jim Morgan (29) of Manteca would finish a distant second with the #68 of Stockton's own Chet Hopkins on the podium in third. Parker suffered mechanical woes on lap 12 which sent him to the pits and an early end to his evening. With the absence of Points Leader Rodney Oliver (27), this night will most assuredly place Jim Morgan at the head of the Points List.
Next Saturday, May 29th, the NASCAR Whelen All American Racing Series continues with the Memorial Day Race. Included on the docket for the event will be Western Late Models in Twin 40's. The Grand American Modifieds will be back in action with the Street Stocks, Bombers, NCMA Sprint Cars, and MMRA Mini Cups.
The New Stockton 99 Speedway is located at 4105 N. Wilson Way, ¼-mile west of Highway 99. For more information on tickets and times, please contact the Speedway Office at (209)466-9999 or visit their Website at www.stockton99.com.
The New Stockton 99 Speedway is sponsored by Jackson Rancheria Casino Hotel, California Welding Supply, Budweiser, Alamo Alarm and Lodi Hampton Inn and Suites.