Win's not kid stuff
Las Vegas teen stays out of trouble in Pro Series West race
By Scott Linesburgh
Record Staff Writer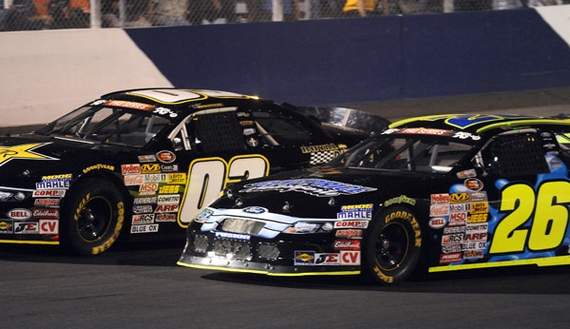 Dylan Kwasniewski of Las Vegas (03) and Greg Pursley of Newhall (26) battle for the lead during the Pick-n-Pull 150 on Saturday night at Stockton 99 Speedway. Kwasniewski led wire-to-wire to capture the K&N Pro Series West race.
MICHAEL MCCOLLUM/The Record
May 06, 2012 12:00 AMSTOCKTON - Dylan Kwasniewski made a dazzling debut at Stockton 99 Speeedway, and Eric Holmes was frustrated that he didn't get a better chance to ruin it.
Kwasniewski, a 16-year-old rookie from Las Vegas, led wire-to-wire and won the K&N Pro Series West's Pick-n-Pull 150 on Saturday night at Stockton 99. The race went 155 laps because of yellow flags and the guarantee of finishing under a green flag, and Kwasniewski handled every restart and never came close to trailing.
Holmes, an Escalon veteran who has won three Pro Series West titles, was involved in an early altercation and came back to finish second. But he didn't move into second until lap 146, and was unhappy with some of the drivers in the 24-car field.
"We have a great series here and we've got about 10 or 12 awesome drivers, and the rest are terrible," Holmes said. "I'm proud of my team, they gave me a great car, and Dylan ran a great race. But NASCAR should park some of these (drivers) for being stupid."
There were seven caution flags, and several of the drivers in the front of the field had trouble working through lapped traffic. Holmes spun out in a multi-car crash on lap 59.
Kwasniewski set the fast qualifying time with a lap of 13.375 seconds and avoided all the trouble. Holmes had one final shot at him on a restart on lap 153, but Kwasniewski was too strong.
"The car was absolutely perfect. We did a good job of getting through lapped traffic and staying away from the wrecks," Kwasniewski said. "Eric Holmes could have roughed me up on the last restart, but he raced me clean, and he's a great driver."
It was a tough night for some of the local competitors. Jacob Gomes of Manteca and Tommy Regan and Ryan Philpott of Tracy were all forced from the race early because of car problems.
"It was really disappointing, but the car just got really hot and we thought it was smart to shut it down," said Gomes, who lasted 40 laps and was 24th.
Scott Winters of Tracy won the time limit-shortened Grand American Modified main event, his first victory of the season. Because the Pro West Series was in town, the local racing divisions were put on time limits. The GAM division was given 40 laps or 35 minutes, and Winters took the checkered flag on lap 25.
"We knew ahead of time what the rules were, so you have to plan accordingly," said Winters, who was the fast qualifier at 14.126 seconds.
"After we had some early (caution) flags, I figured the time was getting close when we got around lap 20. So I knew we had to make a move, and we were able to go out and get the lead."
Richard Harper won the third Super Stock main event of his career and applauded his crew for making changes to the car during the day.
"I really have to give them credit because the track conditions changed through the day and we weren't doing that good early on," Harper said. "But they made some great adjustments,"
Luis Tyrell won the Legends featured race.
Contact reporter Scott Linesburgh at (209) 546-8281 or slinesburgh@recordnet.com.