<![if !vml]>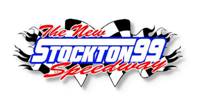 <![endif]>2012 Local Tracks

STOCKTON 99 SPEEDWAY
2012 Schedule Last race:
WEEKLY RACE RECAP
Philpott's skid ends
By Scott Niendorf
Record Correspondent
June 03, 2012 12:00 AM
STOCKTON - Justin Philpott was just starting to wonder where his mojo had gone.
The 2009 NASCAR Western Late Model champion from Tracy had gone three races without a victory this season, but finally found a way to win Saturday night in the first of two 50-lap main events in front of an estimated 500 fans at Stockton 99 Speedway. Jeff Belletto of Modesto won the late model nightcap.
"I'm thinking, 'I'm doing everything I did before to win so what's the deal?' " said Philpott, who jumped to the lead on the first lap and pulled away for an easy win over a 10-car field. "I just went for (the front) and tried to keep driving hard. After (my crew) told me I had a big gap by lap 30, I was finally able to relax and have a little fun."
Philpott took the checkered flag well ahead of Belletto, who couldn't catch the leader.
"(Justin's) tough to race," Belletto said. "It's hard to reel in a guy once he gets three or four lengths ahead of you in a race like this. Once we knew we weren't going to catch him, we backed it down so we'd have some tires left for the second race."
Belletto's strategy paid off as he took the lead from Pine Grove's Matt Scott on lap 11 and pulled away for the win in the second twin ahead of Philpott and Scott, respectively. Philpott won the trophy dash.
Ripon's Denny Burrell was a double winner ahead of Napa's David Goodwill in both the NCMA Sprint main and trophy dash, while Oakley's George Connor won both the Vintage Hard Top main and dash. Garrett Peterson dominated both of the Ford Focus Midget mains winning by at least a straightaway in both the 20- and 30-lap races.
Peterson started on the pole in the first event and pulled away to finish ahead of Ricky Bowers of Euclid, Ohio. Peterson started fourth in the second main and had the lead at the end of the first lap ahead of16-year-old Molly Helmuth of Seattle after some nifty jockeying.
Tyler Edwards of Atlanta, Ga. took the checkered flag in the midget dash ahead of Peterson.
Chris Lancaster of Orangevale took first place in the first 199-lap Enduro Series race, and Manteca's Ryan Strmiska was second.
Attn. Visitors; Rooms available at Stockton 99's New Official Hotel!