<![if !vml]>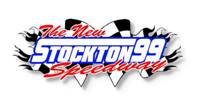 <![endif]>2012 Local Tracks

STOCKTON 99 SPEEDWAY
2012 Schedule Last race:
WEEKLY RACE RECAP
Drivers hope for Classic rematch
<![if !vml]>
<![endif]>
Record Staff Writer
May 25, 2012 12:00 AM
There will be a rematch of defending NASCAR Western Late Model champions in the first round of the Tri-Holiday Classic at Stockton 99 Speedway.
And fans, the promoters and the drivers hope it's as good as the last time.
Jeff Belletto of Modesto, who won the 2011 WLM title at Stockton 99, was edged out in a close, exciting duel the last time he faced Matt Scott, who won the same title last year at All American Speedway in Roseville. They meet again along with some of the region's best drivers in the Memorial Day weekend race at 6 p.m. Saturday.
SATURDAY'S RACES
Tri-Holiday Classic
Green flag: 6 p.m., Stockton 99 Speedway
Racing divisions: NASCAR Western Late Model, Modifieds, Super Stocks, Bombers 50 and B4s divisions.
Information: (209) 466-9999; stockton99.com
Scott, a 20-year-old competitor from Pine Grove, is looking forward to the race and to erasing his previous bad outing in the Tri-Holiday Classic two years ago.
At the Memorial Day race in 2010, Scott was in a major accident that he called "a good $10,000 crash."
"It's the two-year anniversary of that crash, but obviously it's something you'd like to forget," Scott said. "The only other time I've been to Stockton was this season, and Jeff Belletto and I had a great race."
Belletto won the first of two 50-lap WLM main events on April 21, and the second was a thrilling battle in which Belletto and Scott raced side-by-side for 24 laps before Scott got the advantage.
"That probably was the longest I've ever raced anybody side-by-side. It was a lot of fun, although it would have been nice to win," said Belletto, 45, who has been racing late models for 15 years. "It was pretty tough racing, and I was really impressed with his abilities. People really seemed to enjoy it, and I got more compliments from that deal."
Scott and Belletto aren't the only drivers hoping to get an early lead in the Tri-Holiday Classic series, which includes races on June 30 (Independence Day) and Sept. 1 (Labor Day). Promoter Tony Noceti said he hoped to draw as many as 26 cars for the 100-lap WLM race. Belletto's nephew, Nic Belletto, is scheduled to run, along with Justin Philpott of Tracy and Tim Spurgeon of Danville.
"I think it will be a very good field of cars," Scott said. "That's one of the reasons I plan to run the whole season down there and at Roseville. It's good competition."
The program will also feature racing in the Modifieds, Super Stock, Bombers 50 and B4s divisions.
Contact reporter Scott Linesburgh at (209) 546-8281 or slinesburgh@recordnet.com
Attn. Visitors; Rooms available at Stockton 99's New Official Hotel!