<![if !vml]>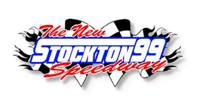 <![endif]>2013 Local Tracks

STOCKTON 99 SPEEDWAY
2013 Schedule Last race:
WEEKLY RACE RECAP
Stockton 99 Speedway cancels Saturday's races
Promoter cites family emergency
Record Staff Writer
August 09, 2013 12:00 AM
STOCKTON - Saturday's racing program at Stockton 99 Speedway has been cancelled.
Track co-promoter Carol Noceti said the decision was made because of a family emergency, and that racing would resume Aug. 17 when the Supermodified Racing League's Southwest Tour is scheduled to visit Stockton 99.
"It was unavoidable, and we're sorry this happened," Noceti said. "We will be back next week."
Saturday's show included twin 50-lap main events in the NASCAR Western Late Model division, and competition in the Super Stocks, Pure Stocks, NCMA Sprint Cars, and Pro-4 Modified divisions.
The Western Late Models are scheduled at Stockton 99 on Aug. 31, and Noceti said she will discuss whether there is a way to reschedule the races with NASCAR officials.
Matt Scott of Pine Grove is having a perfect season in the Western Late Models, having won all seven main events. He has 400 points and leads Stanislav Osterlund of Los Gatos (352) and Justin Philpott of Tracy (332).
Philpott said he's disappointed, but understands the situation.
"I heard it was for a family emergency, and the most important thing is that everybody is OK. Family comes first, racing second," Philpott said. "It's too bad it was cancelled. If they don't reschedule those races, that's two less chances to catch (Scott)."
The Southwest Tour will be coming to Stockton for the second time this season. Derek Thorn of Lakeport won the series race on April 6 at Stockton 99, and he was followed by Jim Pettit II of Prunedale, and Jacob Gomes and Ross Strmiska of Manteca.
Pettit leads Strmiska in the season points standings 985-892.
The Legends, Modifieds and B-4s are also scheduled for Aug. 17.
Attn. Visitors; Rooms available at Stockton 99's New Official Hotel!