<![if !vml]>
<![endif]>2013 Local Tracks

STOCKTON 99 SPEEDWAY
2013 Schedule Last race:
WEEKLY RACE RECAP
Driver approaching state title
By Scott Niendorf
Record Correspondent
August 18, 2013 12:00 AM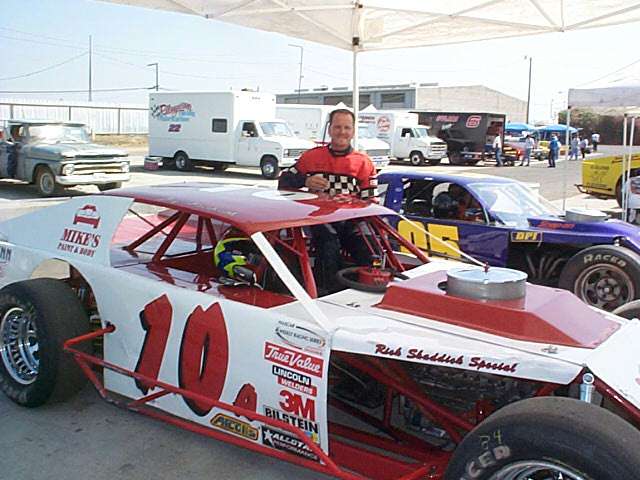 Jay Linstroth of Citrus Heights at 99 Speedway in 2002!
STOCKTON - Jay Linstroth of Citrus Heights made a strong push toward a NASCAR California state championship with a victory and a second-place finish in the Grand American Modified twins in front of an estimated 1,500 fans Saturday night at Stockton 99 Speedway.
Linstroth easily turned his pole position in the first race into a win ahead of Scott Winters of Tracy and Stockton 99 GAM points leader Mike Regelman of Ripon. Sacramento's Jason Philpot, who's second to Regelman in the standings, finished sixth in both mains.
"I really like this track," said Linstroth, who grabbed his fifth victory in Stockton. "I get in the driver's seat and get stressed out, but we have a good team and we still feel pretty confident. Luck is a huge part of (winning)."
Robbie Knittel of Lodi held off Linstroth for the checkered flag in the second race with Andy Vanderveer of Santa Rosa coming in third. John Mamula of Rocklin earned the dash win ahead of Sheldon Didinger of Boyertown, Pa.
Jeremy Doss of Upper Lake survived nine cautions to eke out a hard-fought win in the SRL Spears Southwest Tour 125 main event. Jared Vorse of Olympia, Wash., and Jacob Gomes of Manteca finished behind Doss in a race that ended with 13 drivers after starting with 18.
Brad Mast of Manteca extended his slim lead in the B-4 season points with a big win in the 30-lap main ahead of Dave Kong of Stockton and Mark Jacke of Manteca. Mast passed Jacke for the lead on lap 15 and never looked back.
"These guys are no slouches and they're coming hard at me," said Mast after picking up his second win of the season.
Jacke won the B-4 dash ahead of Kong and Chris Corder of Modesto.
Tony Mangini of Benicia won the Legends of the Pacific main ahead of Ricky Schlick of Claremont, who won the dash.
Larry Collins, the Southwest Tour's race director, was the acting manager of the track after an agreement between track promoters Tony and Carol Noceti was worked out in court Friday. The Nocetis are going through legal proceedings involving their racing company, Noceti Group Inc., and will return to court Tuesday.
Attn. Visitors; Rooms available at Stockton 99's New Official Hotel!