<![if !vml]>
<![endif]>2013 Local Tracks

STOCKTON 99 SPEEDWAY
2013 Schedule Last race:
WEEKLY RACE RECAP
Driver stays perfect with Classic win at Stockton 99
By Scott Niendorf
Record Correspondent
September 01, 2013 12:00 AM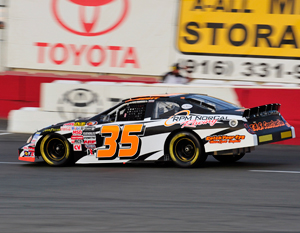 STOCKTON - It wasn't easy, but #35, Matt Scott is still perfect.
The Pine Grove driver survived a stout challenge by Modesto's #71,
Kyle Gottula for his eighth consecutive NASCAR Western Late Model main
event victory to win the 100-lap Tri-Holiday Classic race in front of an estimated 1,000 fans Saturday at Stockton 99 Speedway.
Gottula had the lead through lap 36 by surviving two previous restarts, but Scott finally found a way to the front on the third.
Then it was Scott's turn to play defense.
He held off Gottula on three yellows, the last on lap 80, before pulling away for the win.
"Oh, man, (Gottula) put up one heck of a fight," said Scott, who increased his regular season points lead and clinched the Tri-Holiday
title.
"He really made me work. It didn't feel like 100 laps. It felt like a 40-lap race with all the restarts."
Travis Milburn of Eagle, Idaho, took the dash victory ahead of John Moore of Granite Bay.

#57, Wes Miller of Turlock won the 50-lap Grand American Modified main event, and was followed by Luis Tyrell of Brisbane and Andy
Vanderveer of Santa Rosa. But #24, Tracy's Scott Winters' dramatic rally for fourth lifted him to the Tri-Holiday championship by two points
ahead of Miller.

Winters had the lead on the 17 cars field on lap 23 when Jay Linstroth of Citrus Heights collided with him, sending both to the wall,
putting Miller in front. Then Winters muscled his way back for the championship.
"(Linstroth) got into our door and we traded a little paint," said Miller, of the wreck that put him in the rear. "We were trying for the win
tonight but we're happy with the (title)."
Ben Lewis of Stockton finished the Tri-Holiday event in style with a Pure Stocks victory in the 40-lap main ahead of Joey Sarafin and
Jeremy Tucker, both of Stockton. Guido Bindi Jr. of Stockton finished fourth despite a spinout on the inside of turn four with one lap to
go.
Lewis overcame a two-point advantage in the Tri-Holiday points by Marc Borges of Tracy after Borges and Brandon Jones of Lodi collided
on lap six, sending Borges to finish near the back of the 17-car field.
Chad Holman of Manteca took the checkered in a 25-lap Super Stock main ahead of Jason Aguirre of Atwater and Eloy Banzan of
Modesto to win the Tri-Holiday trophy. It was a two-car race as Holman and Aguirre were tied in the Tri-Holiday points going into the
race.
Brad Mast of Manteca took the checkered flag in the B-4 main, but Mark Jacke earned the Tri-Holiday championship with a second-place
finish.