<![if !vml]>
<![endif]>2013 Local Tracks

STOCKTON 99 SPEEDWAY
2013 Schedule Last race:
WEEKLY RACE RECAP
Second clinches WLM crown
By Scott Niendorf
Record Correspondent
October 06, 2013 12:00 AM

STOCKTON - Matt Scott wasn't nervous Saturday heading into the finale of the 2013 season already having clinched the track championship.
The Pine Grove driver still wanted to win.
In the end, it was Kyle Gottula of Modesto who got the victory, holding off Scott for the final 26 laps in the Western Late Model main event after a caution to earn his first checkered flag of the season in front of an estimated 1,200 fans at Stockton 99 Speedway. But it was Scott who celebrated the title.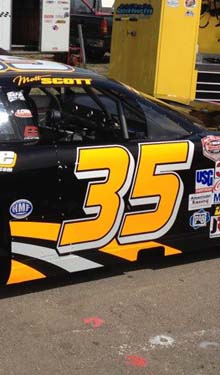 "It's really been a dream season," said Scott, who earned his first championship at Stockton 99 and fourth in a row after coming off three titles at Roseville. "Everything just had to come together. We didn't have any mechanical failures to speak of. There's usually one problem during the season.
"You have to be aggressive (driving), but you have to watch out for the people who don't want you to win. They'll do everything in their power to stop you."
Scott finished with a wide points margin ahead of Stanislav Osterlund of Los Gatos, who had 11 top-5 finishes.
Justin Philpott of Tracy took the Late Model dash win ahead of Luis Tyrell of Brisbane and Matt Wendt of Lodi.
Ben Lewis of Stockton earned his second Pure Stocks championship by finishing second to Marc Borges of Banta, who won his second main.
Dave Kong of Stockton won the B-4 main ahead of Brad Mast of Manteca and Jaya Nelson of Stockton, but it was Mast doing the burnout following the race with his season crown.
Sacramento's Jason Philpott, who entered the race second in points, won the Grand American Modified race, beating Jay Linstroth of Citrus Heights. Points leder Mike Regelman of Ripon finished fourth, leaving the title undetermined.
Jason Aguirre of Atwater won the Super Stocks title with victories in the dash and main event, holding off Chad Holman of Manteca.