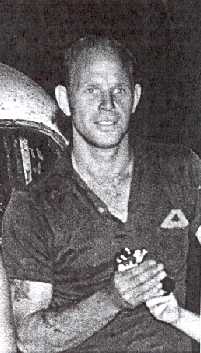 1953 PHOTO OF JALOPY DRIVER, AND FUTURE 99 SPEEDWAY TRACK MANAGER WHITEY RICH.(PHOTO FROM THE BOB TRINDADE COLLECTION)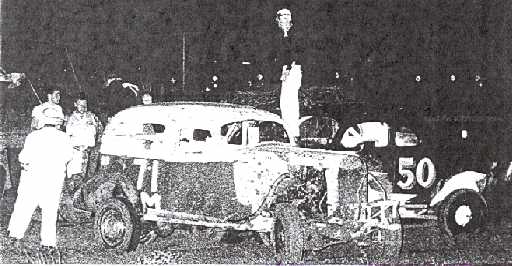 CIRCA 1955 PHOTO OF A 1936 CADILLAC FOUR DOOR
SEDAN, OWNED AND DRIVER BY JACK OLDENHAGE OF
MERCED. IT CAME COMPLETE WITH A CADILLAC
FLAT HEAD V-8 MOTOR AND COST JACK ABOUT $200.000
(PHOTO FROM THE JACK OLDENHAGE COLLECTlON)

time Stockton driver to claim a five way division sweep of fast time, heat wins, dash and feature victories.
A side attraction of sorts this season was the introduction of several jeeps that were fitted with full body, rounded roll cages. The jeeps, plus a ten foot rubber ball kept the fans entertained between races as they bumped the ball back and fourth. As the jeeps made heavy contact and flipped, the round cages allowed them to end up back on their wheels and still in play. As far as can be told, this was the only season they were in use.
Giusti racked up eight feature victories for a division all time record, including another all time mark of four in a row. Danny Hacker of Stockton produced the all time division standard of fifteen main top five finishes. Giusti, Wenzel, Bruno Ferroni of Stockton, Hacker, and Stockton's Johnny Raymond, were the hot drivers of the season, with Hacker taking the 1955 season title. Jerry King of Manteca was the overall state Jalopy champion.
**********************************************************
History Index