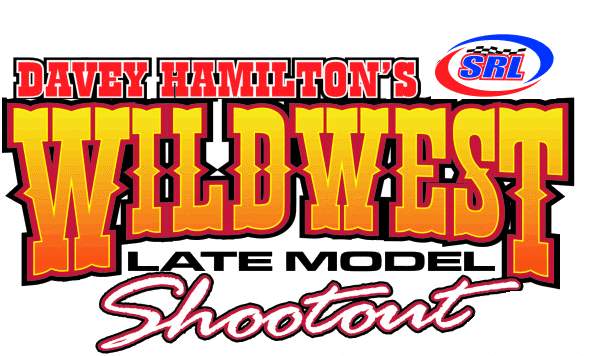 SRL Public Relations / Eddie Alves
Jason Fensler Wins Second Straight Race

Madera, Calif. (April 30th) – Madera Speedway hosted round number two of the SRL Wild West Shootout Saturday night at the Madera county fairgrounds. Wilton's Jason Fensler picked up his second consecutive victory winning the Smokey Hanoian Classic presented by Paul Evert's RV Country. Finishing second was Ken Boyd of Ceres, followed by Joey Zampa, 2004 Champion Steve Belletto as Dave Byrd rounded out the top five. Mike Mendenhall made his SRL debut and finished sixth. 2004 Victory Circle Chassis and Parts Rookie of the Year Mark Smith finished seventh as Troy Ermish finished eight, Jim Courage Jr. ninth, as Jeff Belletto crossed the Finishline tenth. "My car was just awesome for the second straight race. Beebe Racing gives me excellent equipment each and every race and it just makes my job much easier. I knew I had a much better racecar tonight then I did qualifying car but this thing was a rocket." Fensler said.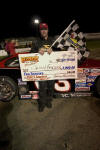 Twenty seven cars attempted qualifying as Jeff Belletto turned the fastest lap at 14.949 seconds around the 1/3 mile track. Fremont's Troy Ermish qualified second (14.964), Eric Schmidt third (14.989), Ken Boyd fourth (15.012), as Jason Fensler rounded out the top five (15.041). Rookie Angelo Queirolo and Tracy Bolin each used a provisional to lock themselves into the 100 lap feature event. Aaron Days and Jeff Anthony transferred from the 20 lap qualifying race as Raw Lawson Jr., Jamie Dick, Greg Potts, Harry Belletto, Carl Pearce, Andrew Livengood, and John Ostlund missed the feature event.
An eight car invert placed Dave Byrd on the pole with Steve Belletto on the outside. Honorary starter Paul Evert waved the initial green flag as the strong field of 20 cars stormed into turn one. Belletto and Byrd raced side-by-side with Byrd leading lap one by inches. Byrd led the first six laps until Fensler took the lead on lap seven from his third starting position. Byrd held onto second until lap 16 when Ken Boyd took second away from him. Joey Zampa moved into third on lap 26 as Byrd fell to fourth as Steve Belletto fell to fifth. The first caution flag of the night fell on lap 36 as Aaron Days spun. Fensler continued to lead Boyd, Zampa, Byrd, and Steve Belletto. Belletto snuck by Byrd on Lap 44 just before the half-way point.
Jeff Anthony charged his way to the top ten after transferring from the non qualifiers race. Anthony

finished 19th after a late race mechanical problem. The second of three yellow flags came out on lap 66. Fensler continued to lead with Boyd and Zampa close behind. The final caution flag came out on lap 90 which setup a 10 lap shootout. Jason Fensler held off Boyd to win his second straight SRL Wild West Shootout event. "We're getting closer. The car is not exactly where I want it to be, but we are definitely getting closer. Those long runs really helped us, our car was not as good as Jason's and we could not pass the lap cars as easily as he did." Ken Boyd said after finishing second. Finishing third and with two top fives in two races Joey Zampa said "We needed a few more laps to catch Boyd. We can't complain with finishing third. Looking forward to going to Bakersfield, that track is fun, I'm exited."
After leading real early in the race Dave Byrd finished in the fifth position as he earned his first top five of 2005. "Our right rear tire grew a ton tonight, that's not what we had expected to happen. We had a blast out here though, this series is really fun. This is only our second race and as team and we are learning a lot and learning fast. It is great to drive for the Whalen's, we have been friends since the 70's." Byrd said.
Jason Fensler remains on top of the current point standings with an 11 point lead over Joey Zampa heading to Mesa Marin Raceway on May 14th. Ken Boyd sits third three points out of the second position. With two top ten finishes under his belt Troy Ermish sits fourth and last year's Rookie of the Year Mark Smith of Tracy rounds out the top five.
The SRL Wild West Shootout heads to Mesa Marin Raceway in Bakersfield, California on Saturday, May 14th.
Average race speed: 73.700 MPH
Best lap time: 15.143. Speed 79.165 MPH (Jason Fensler Lap 41)
Margin of Victory 1.403 seconds