99's DIVISION Points and Results DRIVER Rosters WEEKLY Story
SRL Pubic Relations / Eddie Alves
Ken Boyd Wins "California Welding Supply 100" at Stockton 99 Speedway
Stockton, Calif. (June 2nd) – Stockton 99 Speedway played host to the SRL Wild West <![if !vml]>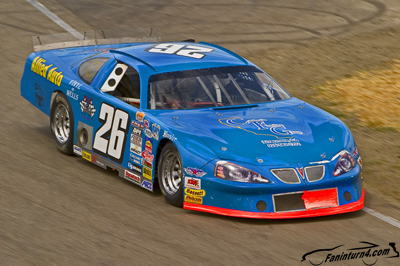 <![endif]>Shootout Saturday night. Ken Boyd of Ceres, California won his first SRL Wild West Late Model Shootout race of the 2005 season. Mark Smith of Tracy finished second, Troy Ermish third, Jason Fensler fourth, as Aaron Days rounded out the top five. The grandstands were packed for the "California Welding Supply 100" as Stockton 99 Speedway also paid tribute to JD Moore, son of Stockton 99 racer and SRL driver John Moore of Granite Bay.

Joey Zampa set quick time with a lap of 13.897 seconds around the quarter mile race track. Mark Smith qualified second with a time of 13.920. Jason Fensler's lap of 13.959 was good enough for third fast as Eric Schmidt and Harold Rieker Jr. rounded out the top five in qualifying. Joey Stearns won the 20 lap non qualifiers race and transferred into the main event. Tracy Bolin finished second, Ray Lawson Jr. third, and Harry Belletto fourth. All four cars transferred into the 100 lap feature event. Corey Petero, Carl Pearce, Charles Perreira, and Jamie Dick failed to make the race.

A six, eight, or ten would determine the invert for the start for the 100 lap feature event. Joey Zampa drew a six which put Ken Boyd and Harold Rieker Jr. on the front row. The green flag waived Rieker Jr. jumped out to and early lead as Boyd tucked in behind. Roseville's Eric Schmidt ran third, Troy Ermish fourth as Mark Smith rounded out the top five. Boyd led lap seven before Rieker took the lead away on lap nine. Schmidt closed in on the leaders and took second away from Boyd on lap 11. Joey Zampa followed Schmidt into third as Boyd slipped to fourth. Jason Fensler who qualified 3rd but started 20th after missing the drivers meeting picked up five spots and ran 15th on lap 12. Rookie Joey Stearns who transferred from the non-qualifiers race spun on lap 13 in turn two and quickly went down a lap to the leaders. Rieker Jr. and Schmidt continued to pace the field with a 10 car length lead as the drivers quickly completed 20 laps. Jeff Belletto ran in the sixth position, followed by Troy Ermish, Jeremy Wood, Aaron Days, and Dave Byrd.

The first caution of evening fell on lap 25. Harry Belletto made a pit stop as the field restarted on lap 27. Rieker Jr. continued to lead as the second caution came out on lap 43. Eric Schmidt and Joey Zampa who were running second and third made contact on the tight ¼ racetrack sending Zampa into a spin in the middle of turn one and two. As a result Eric Schmidt was placed at the rear of the field before the restart on lap 45. Boyd took over the second position, Mark Smith ran third, Jeff Belletto fourth and Troy Ermish fifth at the halfway point. Boyd decided it was time to go get the lead back as both him and Rieker Jr. raced side-by-side for nearly four laps. The fans cheered both Boyd and Rieker on but that was not the only exciting battle taking place on the track. Jason Fensler had moved up to seventh behind 18 year old Jeremy Wood. Fensler and Wood put on an excellent show for 6 laps as everyone in the grandstand stood on their feet to see the action packed racing all over the track. One lap later Boyd took the lead away from Rieker Jr. as the third caution of the evening came out on lap 62. Mark Smith slipped passed Rieker Jr. to take second on lap 65. Fensler took the sixth position from Wood on lap 69 with a bonzi move heading into turn one.

Boyd led the field to the green flag on a lap 72 restart as Smith, Rieker Jr., Jeff Belletto, Jason Fensler, Aaron Days, Jim Courage Jr., Eric Schmidt, Ray Lawson Jr., and Angelo Queirolo continued on the lead lap. Troy Ermish passed Rieker Jr. on lap 80 to take the third spot with just 20 laps remaining. Fensler passed Jeff Belletto on lap 87 to take fifth and then took fourth away from Rieker Jr. on lap 88.

Ken Boyd led the final 12 laps to win at Stockton for the first time since 1998.
Mark Smith did his best to run down Boyd in the remaining ten laps but came up a little short as he earned his best career SRL Wild West Shootout finish. Troy Ermish finished third, Jason Fensler fourth, and Aaron Days fight. Rieker Jr. fell to sixth, Jeff Belletto seventh, Jim Courage Jr., eight, Eric Schmidt ninth, and Ray Lawson Jr. tenth.
"It just feels good to get a win here for the crew and everyone involved, especially Mike and Rick they put so much time and effort into these cars." Boyd said after winning on a track he dominated in the late 80's and early 90's winning four straight track championships.

Average race speed: 55.451 MPH
Best lap time: 14.054 (Eric Schmidt)
Margin of Victory: 1.885 seconds
The SRL Wild West Shootout heads to Mesa Marin Raceway on Saturday, July 30th.
Davey Hamilton's SRL "Wild West Shootout" would like to thank their 2005 Sponsors, which include: Afco, Apex Financial Group, Bassett Racing Wheels, Brodix Inc., Casciaro Homes, Dynatech, DPI, Eibach Springs, FRE, Five Star Stock Car Bodies, Frank's Radio Service, G. P. Fabrication, Hoosier Tire West, Impact Racing, Fensler Racing Inc., Madera Auto Center, Paul Oil Co., Perry Race Cars, Peterson Fluid Systems, Pit Stop USA.Com, Sunoco, Total Seal Inc., U. S. Brake, and Victory Circle Chassis and Parts.
All products mentioned are registered trademarks or trademarks of their respective companies.

Any and All COPYRIGHT MATERIAL APPEARING ON THIS SITE COMPLIES WITH FAIR OR ACCEPTABLE USE PRINCIPLES ESTABLISHED IN U.S. AND INTERNATIONAL COPYRIGHT LAW FOR THE PURPOSES OF REVIEW, STUDY, CRITICISM, OR NEWS REPORTING.