TUCKER TAKES
STOCKTON SHOOTOUT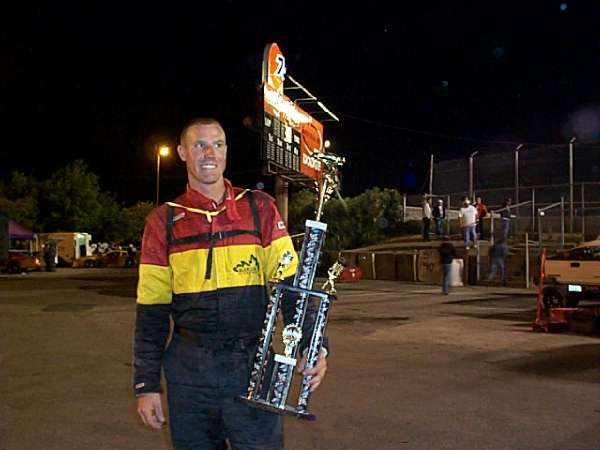 5-11-02
BY: JIM SHIELS
Defending champion Nathan Tucker of Sonora was the winner of the SRL Late Model Wild West Shootout at Stockton 99 Speedway this week, in a feature event that while not a "blood bath" could certainly qualify as a "Fiberglass fiasco." Seven-yellow flags and two-reds slowed the action and ended up cutting the planned 100-lap affair to 74 circuits under a checkered/yellow.
Tucker, who started the event fourth, fell back to as far as 6th in the early going, pulled to second on the 36th go-round, and took the lead on lap-62 as than leader John Gaalswyk of Ripon pulled up lame. Ron Strmiska, Jr. of Manteca, who was a heavy favorite coming into the event, trailed Tucker over most of the later laps. After winning the first race in the three-track, 12-race series in Madera, and pulling off a stunning come from behind victory in the NASCAR Southwest Series Tour event held at Stockton April 27th, Strmiska, who started 8th, rested third on lap-44 and second on lap-62. David Philpott was the early leader passing off to Joey Zampa of Napa on lap-36. Zampa cut a tire and took a nosedive into the first turn wall on lap-52 giving the lead to the nightís fast time sitter, Gaalswyk.
The worst of the wrecks on the night came on the 46th circuit as Gene Garrett of Stockton spun on the front straight coming off turn-4. Garrett was stalled facing the wrong direction to be hit head-on by C.J. Jahnke of Reno. Both cars sustained heavy front-end damage and Jahnke was taken to the infield ambulance for an on-site checkup.
Jeff Anthony of Livermore finished third ahead of Troy Ermish of Fremont and Philpott. The SRL Series will move on to competition at Altamont and Madera Speedways and return for itís 3rd of four events at Stockton on September 14th.
The HOTWOOD Western Late Models, the premier division in Stocktonís NASCAR Weekly Racing Series presented by DODGE were also on hand this week with fast time going to two-time Late Model champion Harry Belletto of Modesto.
Once again the event featured a 30-lap, wire-to-wire victory, the third of four on the season, with Dave Byrd of San Jose becoming the only second time winner of the new division behind the wheel of the potent Tim Gillit owned/Lathrop based car.
Mark Welch of Orangevale chased Byrd the entire distance to finish second at the checkered ahead of heat winners Joe Hylton of Manteca, and Wes Miller of Delhi. Pete Anderson, Jr. of Stockton rounded out the top five. Byrd increased his current early season point lead to 19 marks over Welch, with Belletto resting third. Only one yellow marred the event as Tracy Bolin took a hard hit into the front straight wall on lap22.
Grand American competition on the night saw the first lap feature lead go to Danny Contessotto of Stockton with incoming point leader Steve Stacy of Stockton hot on his bumper.
Lap-eight saw the first of six yellows as first time runner Kyle Gottula of Modesto went up in a cloud of smoke on the front straight. It was a disheartening end to the youngsters first run at Stockton followed by a respectful 9th place time trial against the 27-cars on hand. Kyle is the son of Kevin Gottula, a long time, highly competitive, and very popular Late Model driver at Stockton.
Stacy took the lead on lap-11 before losing a shock in a rubbing melee on lap-14 that handed the lead to Greg Williams of Ceres at the yellow. Williams received a slight nudge from fast time sitter Jason Philpot of Sacramento on the final go-round forcing him to check up and giving the win to Philpot. Contessotto finished third ahead of a fast returning, but lame, Stacy. Robert Knittel of Lodi finished fifth.
The nightís dash win went to Jay Linstroth of Citrus Heights with the B-Main win going to Mike Regelman of Ripon. Stacy retains a slim 13-point margin in the season points over Contessotto, with Jason Kerby of Galt and Philpot tied for third.
The always popular Pure Stocks put on their usual wild show with the first lap feature lead falling to the much improved Jeff Saunders of Salida. Incoming point leader and defending division champion Danny Guibor of Manteca surged past on the third circuit to take the lead, in turn chased by Ron McCaul of Stockton. McCaul lead from lap-17 through 20 before Guibor once again gained control and romped home the winner to add to his heat and dash victories on the night.
A very impressive second place finish went to last yearís Pure Stock Rookie of the Year and current season highly improved Michael Wendt of Lodi. Heat winner Johnny Bird of Stockton fished third over Ken Ratcliff of Stockton and the division most competitive gal, Cindy Freitas of Lodi.
Other heat winners were Chad Holman of Stockton and Steven Hall of Manteca, with a strong B-Main event win falling to "Happy" Charlie Clawson of Modesto. Guibor increased his current point lead to 27 points over Holman, with Bird running third on the list. Michael Mathews of Stockton still controls the B-Main championship point lead with a closing10-point margin over rookie contender Jeremy Hoff of Copperopolis, the young son of past Dwarf Car standout Scotty Hoff. An announced crowd of 1,499 witnessed the action this week.
---