BELLETTO GAINS AT STOCKTON
BY: JIM SHIELS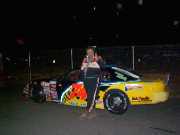 6-8-02
HOTWOOD Western Late Model driver Harry Belletto, #74, (above) of Modesto notched his second season win in feature action on the high-banked quarter-mile oval in Stockton this week as the NASCAR Weekly Racing Series presented by Dodge and sponsored by C.L. Bryant Union 76 Gas continued it's new season of racing.
Belletto notched the quick time on the night, won the dash, and started 6th on the 18-car feature grid. The event was slowed 9-times by yellows for minor spins and debris on the track, with Belletto taking control of the lead on lap seven. Incoming track point leader and NASCAR Regional leader,

Dave Byrd, #9, of San Jose finished third ahead of Phil Perry of Roseville driving the Gene Welch car, with Tracy Bolin of Valley Springs rounding out the top five.
Belletto gained 12-points and lowered Byrd's point lead to 21-points with Wes Miller of Delhi sitting in third.
Grand American Modified action saw Danny Contessotto of Stockton with the early feature lead with Jason Kerby of Galt taking charge under a yellow on lap-13. Contessotto made several game tries to beat Kerby but settled for second at the checkered. Jay Linstroth of Citrus Heights finished third ahead of Sam Solari of Salida and Buzz Devore of Stockton.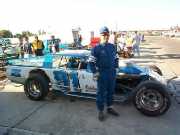 Fast time and new track record holder Steve Stacy, #91 of Stockton, (above), was swept up in an accident finishing 15th and losing his point lead to Contessotto. Stacy also won the dash.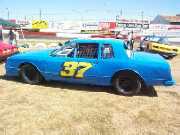 Kannai Scantlen of Stockton paced the early feature laps of the Pure Stock feature with Joey Stearns, #37, of Stockton taking control on lap-11. Stearns won the event over dash winner Tom Bolin of San Jose. Danny Guibor finished third ahead of Michael Wendt of Lodi and Tom Dahl of Stockton.
B-Main heats were won by Dustin Himes and Dave Ball of Stockton, with the Semi-feature falling to Richard Harper, also of Stockton. Guibor increased his current point lead to 37-marks over Stockton drivers Chad Holman and Johnny Bird.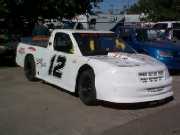 A fun night of action centered on a battle between Pro-4 Trucks and Mini Stocks with single lap speed records being set in both. Gary Franks of Manteca lowered the truck standard to 15.784 while the mini stock record, in place since 1990, fell to a 16.593 posting by Earl Lee of Elverta.
Bill Bays of North Highlands led the first two feature laps before bowing to A.J. Frank in his truck, with fellow 'trucker' Gary Franks of Manteca coming to second on the next lap. It looked like a sure win for the trucks until the front two tangle off turn four on lap-14 and allowed the 'little guy' in the form of Jim Reid of Galt to grab the lead. Reid finished first ahead of Franks & frank, with Earl Lee running fourth ahead of Hugh Lee, also of Elverta.
The Frank & Franks combination won the heats with the 'single' Frank taking the dash.


Back