RIEKER SURVIVES FOR
STOCKTON WIN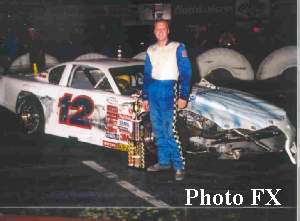 7-3-02
BY: JIM SHIELS
If you didnít have a damaged race car late Wednesday night, the reason was obvious, you didnít race the HOTWOOD Tri-Holiday 100-lap FIRECRACKER event at Stockton that turned out to be a fiberglass melee and a scoring nightmare.
The $1,500 to win, NASCAR sanctioned event, produced a 26-car field with Paul Dorritty, Jr., of Modesto and Pete Anderson, Jr., of Stockton sharing the pole row duties for the feature start. Anderson jumped to the early lead with a first yellow coming on lap-two as Brock Monroe of Escalon and Johnny Berndt of Clements tangled in turn-four. On the restart Anderson was followed by Mark Welch of Orangevale, in a combination that would keep the fans on their feet and produce fireworks equal to those enjoyed by area fans preceding the event. Welch made the pass for the lead on lap-ten with Tracy Bolin of Valley Springs running third. On Lap17, 12th place starter and fast time man on the night, Harry Belletto of Modesto moved to fifth, followed by a move to 4th on lap-20, and 3rd on the following circuit. Belletto was looking for his tie-breaking fifth Firecracker win and his also tie-breaking 72nd career feature win to make him the all time Stockton leader in that department. Belletto progressed to 2nd on lap-31 and set his eyes on the leader Welch. The second yellow came on lap-53 as Berndt stalled trying to make the pit exit gate. Under the yellow Belletto started popping and headed to the infield for repairs and a last place restart, with Welch leading over Anderson, Incoming point leader Dave Byrd of San Jose, Joe Hylton of Manteca, and Bolin.
Anderson grabbed the lead on the 57th lap-restart, as Welch and he traded paint lap-by-lap. At the same time Byrd came up lame and headed to the infield for repairs that left him many laps down. Welch muscled his way back to the lead on the next circuit as a yellow fell for a spin by Delhi pilot Wes Miller off turn-four.
The action continued to heat up as lap-67 produced a yellow when Harold Rieker of Orangevale and Bolin tangled on the back chute. As cars checked up behind them, Belletto dove low to avoid Anthony Swan of Newark and grazed him on the way by, cutting a tire that sent Belletto up and into the turn-3 wall in a shower of sparks dragging Bolin, Dorritty, and Miller into the wall with him. Belletto, with his ride scrapping the ground, had no choice but to pit as the yellow flag laps were counting down, putting him at least a lap-down to the field.
Anderson once again beat Welch on the restart to retake the lead, with Hylton running third over first time Stockton career dash winner Rieker, and first time Stockton runner Verg Beaty of Ceres.
The laps ran smooth with Welch bumping and nudging and in some cases downright banging on Anderson wherever possible in an attempt to get the first season rookie Late Model driver off pace and finally doing so in turn-four on lap-89 to take the lead once again. Anderson quickly showed the "teacher" how well he had learned his lesson by bumping his way back to the point a lap and a half later. The move apparently upset Welch who drove into the first turn with a vengeance, hitting Anderson twice, turning him a little more each time. As Anderson came off turn-two almost sideways, Welch completed the maneuver by driving up over the left rear of Andersonís mount. Joe Hylton became a victim as the cars sailed across the track and Officials pointed Welch to the pits for the night.
At this time, several cars that were a lap down made it past the leaders and their melee to earn their lap back and hold the program for many minutes as scoring tried to determine just who was leading the parade. Rieker was determined to be the front runner with Anderson holding on for second and unable to beat him to the checkered seven circuits later.
Chris Monez of Lodi scored his best personal finish in third, Followed by another personal best of fourth by Pete Ramirez of Manteca. Belletto finished fifth, to cut Byrdís point lead to a slim 11-points, with Wes Miller now setting third. Scott Chappell of Lodi won the B-Main in his first Stockton Late Model appearance.
Six Yellows and two reds marred the Grand American feature as the Weekly Racing Series presented by DODGE night continued, with Jay Linstroth of Citrus Heights and incoming point leader Steve Stacy of Stockton controlling the front row for the intended 30-lap main.
Linstroth grabbed the early lead with Stacy spinning out in turn-two on lap-four to produce the first yellow. Dash Winner Jason Philpot of Sacramento and Herman Prock of Denair also spun, with Prock getting hit by Buzz Devore of Stockton. The restart saw Linstroth in control followed by first Time fast setter, Mike Regelman of Ripon, followed by Danny Contessotto of Stockton, Sam Solari of Salida, and rookie Kyle Gottula of Modesto.
In his second week of competition with his new car, the normally "not so competitive" Regelman showed the new car was working as he surged to the lead on lap-seven as a yellow flew when Linstroth broke and slammed the third turn wall hard. It was Solariís turn to lead as he moved to the front on the restart as another yellow (followed by the first red) fell when Craig Swim of Elverta and Ben Lewis of Stockton tangled on the back straight.
A quick yellow on lap-11 saw Contessotto move to second and grab the lead on lap-14 as yet another yellow flew with another spin by Stacy in turn-two. On the restart, Solari pulled ahead by a nose as the red came flashing out when first time runner Les Friend of Galt got pushed into the wall and ended up on his roof in front of raylindasarah and the turn-one fans.
Solari held strong for the point position with the next to last yellow coming on lap-19 as Stockton drivers Darrin Halterman and Doug Lane mixed it up on the back side. Grew Williams of Ceres moved to third on lap-21, and second on the next pass to chase the strong running Solari to a checkered/yellow on lap-27, followed by Contessotto, Gary Glenn of Orangevale, and rookie contender John Moore of Granite with his best career firth.
Solari moved to second in points with his third season win and tightened the margin to 23-points behind Stacy with Contessotto falling to third, four back of Solari.
Pure Stock action saw Johnny Rose of Stockton take the early feature lead, bowing to fellow Stockton driver Johnny Bird on lap-three. A yellow fell as second place point runner Chad Holman of Stockton tried to make a pass low in turn three, making contact with Gary Shafer, Jr of Stockton as he did. Holman spun and stalled on the infield grass.
The lap-six restart saw Bird ahead of Tom Bolin of San Jose, Tom Dahl of Stockton, incoming point leader Danny Guibor of Manteca, and Modesto pilot Charlie Clawson, with A yellow falling on the next pass when Cindy Freitas of Lodi spun in turn-one.
Bolin pulled to the lead by a nose on lap-11 with Guibor moving to second after a 13th lap yellow. Guibor got Bolin by a nose to earn credit for the lead on lap-124 with both he and Bolin running a dead heat on the next pass before Bolin took control once again on lap-16. The event ran trouble free to the 30th lap checkered with Bolin picking up his third-straight feature win over Shafer, Guibor, dash Winner Joey Stearns of Stockton, and a fast returning Holman. Fast timer Michael Wendt of Lodi finished 6th.
Richard Harper and Ray Bird of Stockton won qualifying heats with the Semi Main victory falling to Railroad Flat driver Brian Miller. Guibor continues to lead in the season points with a 38-point margin over Holman. Johnny Bird runs third. Brian Miller increased his B-Main title hopes by in turn increasing his point margin to a healthy 84-marks over Dustin Himes of Stockton.
Late Model, Grand American, Pure Stock and Legends of the Pacific Racing will return to Stockton Speedway July 13th for the Gatorade/Subway Sandwich night that will feature a special presentation to Stockton and Northern California racing legend Johnny Brazil for a stunning and stellar 43-year career