Late Model main filled with bumping, spins

By Bill Poindexter
Record Staff Writer
Published Monday, March 29, 2004

Jim Weimer oversees the Western Late Model division at Stockton 99 Speedway. He saw a mess

Sunday afternoon.
Five yellow flags, one red flag, crashes, sparks, flat tires, dents and destroyed parts made the season-opening 30-lap main event look more like a destruction derby.
And still, someone managed to win. Chris Monez, #11, of Turlock blew past Mark Welch, #23, of Orangevale on a restart on lap 26 and drove to the checkered flag.

"I knew they were going to throw the green (on the restart)," Monez said. "I just got the better of the banging."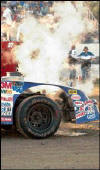 Others weren't so lucky. There were multiple spinouts, and most every car had at least one tire mark on its door.
That prompted Weimer to call a meeting of the drivers following the race.
Weimer said he told the drivers, "It ain't going to happen anymore. You want to take away lines, we're going to put you on the trailer."
He said it was a matter of the drivers "not using their heads. They weren't using their lines, and they were taking lines away from people."
Mike Garcia, #57, of Lodi, the No. 1 qualifier, and Pete Anderson Jr., #5, of Stockton got into a nasty wreck on the second lap. Anderson's car climbed the wall in turn three. Both claimed there was oil on the track.
"About $5,000 in damage," said Anderson, whose crew repaired tie rods, shocks and two wheels and actually got the car back on the track to finish the race, albeit several laps down.

It started with Dave Byrd, #9, being tapped from behind and turned into Welch on the first lap, and the race degenerated into a smash-up derby. Byrd, who has won multiple track championships, spun more than a square dancer.
"Nobody wanted to let up," he said. "I think everybody got me once."
Monez ran up front for the entire race, yet his car still had its share of bumps and bruises.
"Everybody got six months off and then tried to win it in every corner," he said.
Late Model rookie Gary Shafer Jr. of Stockton, Gary Glenn of Orangevale and Eric Humphries of Chowchilla also spun out.
SRL Wild West Shootout

Joey Zampa, #92, of Napa cruised along behind Phil Perry, #24, of Lincoln, not driving especially

hard to keep up with him but wondering if he could ever pass him.
But Zampa didn't have to. Perry, after leading 54 laps of the 100-lap race, pulled into the infield during a caution period because of a carburetor problem.
His day was done, but Zampa's wasn't. Zampa inherited the lead and never gave it up in winning the second race in the series.
Zampa dedicated the victory to his father and former crew chief Ron, who passed away in April 2003.

"This one is definitely special. This one's for him," Zampa said. "We worked real hard to get back
to where he was (with the car)."
Defending series champion Ron Strmiska Jr. of Manteca was second, Jeff Anthony of Livermore third, Rick Ruzbarsky of Tracy fourth and Ryan Foster of Anderson fifth.
Strmiska fought off Anthony's challenge for several laps before pulling away, but he couldn't catch Zampa.
"His car was a lot better than we were. We were just too tight," Strmiska said. "We can't complain about second."
BCRA Midget


Seven-time BCRA champion Floyd Alvis, #18, of San Carlos led from green flag to checkered flag in the 30-lap feature.
Alvis, 69, didn't qualify well -- his 14.089-second lap was 14th out of 25 drivers and nearly a

half-second behind pace-setter John Sarale of Stockton -- but he controlled the race until Thomas Meseraull, #69,, #32, of San Jose made a challenge in the final three laps. The two bumped tires in one side-by-side battle, but Alvis hung on to win. Sarale finished third in the main.
Meseraull won a race Saturday night at Irwindale.
---
* To reach assistant sports editor Bill Poindexter, phone (209) 546-8289 or e-mail bpoindex@recordnet.com