Race Results 2005 Points Weekly Index Driver PIX & Rosters Diecast Store Pre Race Releases
Shafer is Back in Black
Stockton Racer Wins WLM 50-Lapper
By KELLY JONES
BEE STAFF WRITER
Last Updated: August 7, 2005, 04:45:08 AM PDT
STOCKTON — Gary Shafer Jr., Left, went from a red, white and blue race
car to an intimidating black one at Stockton 99 Speedway on Saturday.
The change in color appeared to have turned the Stockton resident's luck around as Shafer ran away with the 50-lap Western Late Model main, his first victory of the year.
For the second week in a row, Shafer was the fast qualifier. He battled his way through the field to lead by Lap 8, and survived three restarts to beat the top four points leaders to the line.

"Honestly, I thought last week was a fluke," Shafer said of his fast time. "This really game me a lot of confidence. I usually don't qualify well."
Another morale booster was a new car body. Though his regular body had only minor damage from the week before, Shafer's uncle and car owner, Mike Shafer, directed the crew to take it off.
He surprised his nephew with a car modeled after that of the late Dale Earnhardt: black with a white-and-red No. 3.
"We were having bad luck so I thought we'd change it," Mike Shafer said.
Gary Shafer was appreciative of the move. Though he felt like he'd had a fast car all season, Shafer said some bad breaks kept him from getting to the front. He entered the night fifth in points.
"I think we're going in the right direction," Shafer said.
Shafer held off points leader Pete Anderson Jr. of Stockton the final 42 laps in front of a crowd of 1,438. Anderson finished second. Granite Bay's John Moore was third and San Rafael's Allison Duncan finished fourth.
Anderson entered the night leading the standings, followed by Moore and Duncan.
Turlock's Chris Monez, running fourth in the standings, was bumped on Lap 14 on the front straightaway. His passenger side panel showed the tell-tale sign of black tire marks and he lost part of his back bumper.
Monez fell in position, but managed to avoid crashing. He swung w
ide in Turn 1 to stay in the race. By Lap 36 he had moved up to fifth place, and that's where he finished.
Pete Anderson Jr.of Stockton, #5, won the Western Late Model Trophy dash.
GRAND AMERICAN MODIFIED — For someone who hasn't had the best luck on the track this year, Salida's Sam Solari is doing pretty well in the GAM division.
Solari won his second race of the season Saturday.
He entered the night fourth in points. But two blown engines and a faulty ignition switch have kept him from contending for the points lead.
Last week a fuel problem kept him from qualifying.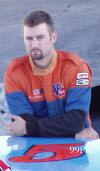 "We've been struggling, but we've done all right," Solari said. "We haven't

missed any races. We've had a lot of thirds."
Points leader #5, Jason Philpot, Left, of Sacramento finished second. Modesto's Kyle Gottula, #21, moved into second in the standings with a fourth-place finish.
OTHER DIVISIONS —
Modesto's #15, Charlie Clawson won his fourth American Limited
Stock Car main of the season to build his points lead. …

Pro 4 Trucks leader#6, Mark Henslee of Lathrop won his fourth race of the year, leading the entire 25 laps. …
Tracy's #22a, Jeremy Wood claimed the Legends of the Pacific victory.
Bee staff writer Kelly Jones can be reached at 578-2300 or kjones@modbee.com