STOCKTON 99 SPEEDWAY: 1946-2006 Guest Book Fans Comments
While Speedway track is demolished, memories live on
Record Staff Writer
January 14, 2007 6:00 AM

STOCKTON - Earl Summers, at the controls of the backhoe, is sad that he'll never again watch a race at the track his father helped build.
But he's takes some solace in the fact that he will always have Stockton 99 Speedway in his heart and in his trophy room.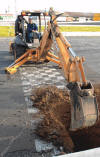 Summers recently helped in the demolition of the old track by cutting deep holes through the asphalt, and he took a few chunks of the track with him.
"I'll give some to friends, but I'm going to mount a big piece of the track on a plaque and put it in my trophy room," said Summers, a Stockton resident. "The plaque will say '1946-2006, 60 years of Stockton history.' It will give me something to look at and remember."
Stockton 99 officially closed on a warm night in September in front of a crown of more than 5,000 fans. The property is in the process of being sold to land developers, and the track is slowly being dismantled through the winter months, with many pieces being sold to Altamont Motorsports Park and other race tracks.
Bleachers, stadium lights, concessions stands and even restrooms from Stockton 99 will be scattered around Northern California at places such as Altamont Raceway Park, Madera Speedway, All-American Raceway in Roseville and Thunder Hill in Williams.
"Stockton was such a grand old track and so important to racing in this area, so I think it's fitting that it lives on in some ways, said Kenny Shepherd, who promotes races at Altamont and Madera.
Shepherd said he expected to have all the equipment removed from the track by Feb. 15.

Summers, 66, is happy that parts of Stockton 99 will be put to use, but he's sure going to miss the whole package. His father, Max Summers, worked for Tom Moore, who was one of the original partners in the track along with Billy Hunefeld. Construction on the track began in 1946, and Max got on a bulldozer and helped clear the way. He brought his family, including 6-year-old Earl, to opening day on May 27, 1947.
Earl Summers would later become a racer and an official who was on duty when the track closed on Sept. 16. His last official act happened a few weeks ago when he was asked by track owner Bob Hunefeld to use a backhoe to put the ditches in the track and stop potential joy riders.
"It's just always been a part of my life since I was a child," Summers said.
"It's tough to say goodbye to that. There's a lot of history being taken away. So it was tough to do."
It's been a tough winter for many who loved the track. Chris Hunefeld, Bob Hunefeld's son, said he thought it would too emotional to watch the work
crews come in and take apart Stockton 99.
Pat Patnaude, the last track manager, figures he should be working on next season's schedules.
"It leaves an empty feeling inside of you," Patnaude said. "You feel there are all sorts of things you should be doing, but know you don't have to do them anymore."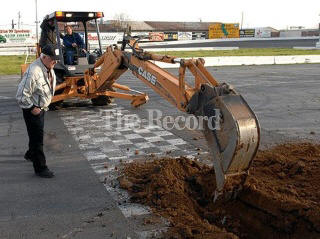 Jack Houston, 72, a track official who came to Stockton 99 in 1957, was with Summers when he chopped up the track and grabbed a few pieces for himself.
"This is sad, but if it has to come apart, it's better if someone like Earl to be involved," Houston said.
For Summers, it was therapeutic, and in the end left him with positive thoughts.
"I'll just remember the good times; I don't remember the bad times," Summers said. "I had bad moments, wrecks and such. I just chose not to remember them."
Contact reporter Scott Linesburgh at (209) 546-8281 or slinesbu@recordnet.com.
Thanks to the Record for the story and photos.