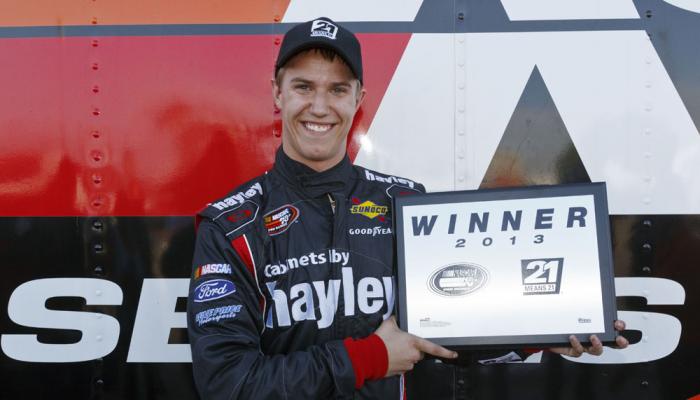 STOCKTON, Calif. -
Sixteen-year-old Cameron Hayley set a track record in capturing his first career pole in NASCAR K&N Pro Series West qualifying at Stockton 99 Speedway on Saturday.
Hayley lapped the historic quarter-mile oval in 13.726 seconds at an average speed of 65.569 mph as the field was set for tonight's G-Oil 150. Thirty drivers took qualifying times in trying for one of 24 starting spots in the race.
Hayley of Calgary, Alberta, is coming off a second-place finish in the season opener. He drives for the championship team of car owner Gene Price.
Derek Thorn was second quickest in qualifying, with a lap of 13.734 seconds (65.531 mph). He was followed by Sergio Pena, Greg Pursley and Michael Self. Two young drivers making their series debut qualified in the top 10, with Luis Tyrrell sixth quick and Giles Thornton eighth fastest. Completing the top 10 were Eric Holmes in seventh, Brett Thompson in ninth and Jamie Krzysik in 10th.
The green flag for the G-Oil 150 is set to wave at 8:30 p.m.
This marks the second event of a 15-race series schedule this year.